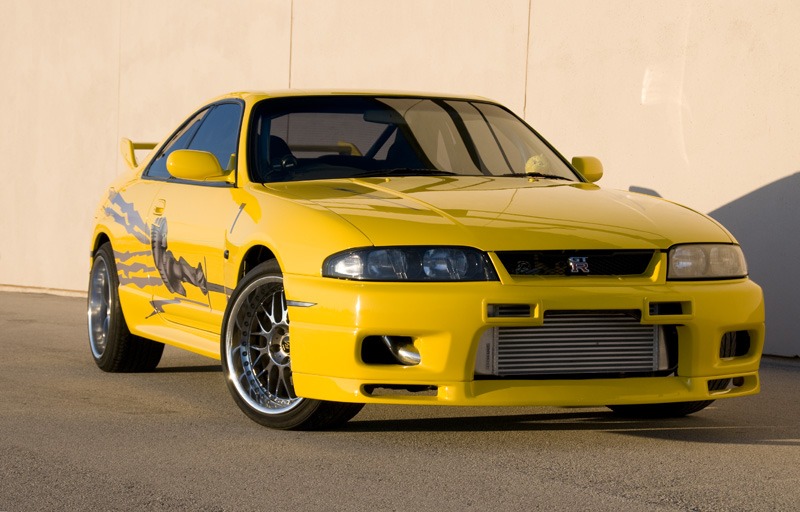 1995 R33 GT-R
Leon's Skyline belonged to MotoRex, although Sean Morris was the car's caretaker. This car made only a brief appearance in the movie for several reasons. A video I did on this car explains why it had a smaller role.
Engine Specs
Stock RB26dett
Stock turbos (2530 had broke during One Lap of America)
HKS air filters
HKS fuel rail
HKS fuel pressure regulator
Bosch 044 fuel pump
HKS Twin Power DLI
HKS Intercooler
HKS front pipe
HKS Exhaust
Styling
Stock R33
Painted yellow for the movie (originally white)
Graphics for the movie
Tires/Wheels/Brakes/Suspension
Work VS-XX Wheels 18 x 10 inch
Toyo T1S 255/40/18 (I think)
Stock Brembo brakes, front and rear
HKS Suspension
Interior
Rollcage by UPRD – for Pikes Peak 1999
HKS Boost gauge
PERFORMANCE STATS
0-60 in 3.9 seconds
¼ mile   12.1@110 mph (1 bar of boost, at Carlsbad)
FUN FACTS
Leon's GT-R was given the name "BigBird," a reference to the big yellow character on the TV show Sesame Street.
The car served as a demo car for MotoRex. The car had done many race events including drag racing, One Lap of America and Pikes Peak Hill Climb event.
The car was eventually sold and around 2012, it was seized and crushed by the Feds. It seems that MotoRex had never completed the certification on this car to make it Federally Legal and the new owner was forced to surrender the car.
If you want to read more on why the car was seized and crushed, GO HERE