My Movie Cars
I get this question almost daily, despite the fact that this information has been public for more than 18 years. I have to remember that a lot of people have only recently become fans of the Fast & Furious franchise and my efforts on Instagram might have just become known to them.
For those who don't know, I owned the following cars that were used in the first two movies:
Brian's orange 1994 Toyota Supra
Vince's blue 1999 Nissan Maxima SE
Brian's silver 1999 Nissan Skyline GT-R
All of these cars were owned by me personally before the movie. Universal rented each of the cars from me to use as "Hero" cars,  then changed things like the graphics, body kit pieces and/or wheels, to suit their preferences. We built four (or more) replicas of all the Hero cars for use in stunts and as backup cars for use during production.
The cars were then returned to me after film production wrapped and I was free to do with them what I wanted.
BRIAN'S ORANGE SUPRA
In the case of the Supra, I left it as-is (more or less), then sold it about 18 months later. By this time I had changed the seats, updated the interior a bit, chromed the roll cage, changed the headlights, turn signals and taillights to the 1998 version lights and a few other small things. 
The Supra was sold to a buyer in Belgium who then in turn, sold it to a collector in The Netherlands.
VINCE'S BLUE MAXIMA
In the case of the Skyline GT-R, I bought this fully federally legal GT-R from MotoRex in 2001. I paid $78,000 for the car. The car was black at the time, but I chose to paint it my own custom shade of candy blue. At the time, I was still consulting on post-pr
BRIAN'S SILVER SKYLINE GT-R
In the case of the Skyline GT-R, I bought this fully federally legal GT-R from MotoRex in 2001. I paid $78,000 for the car. The car was black at the time, but I chose to paint it my own custom shade of candy blue.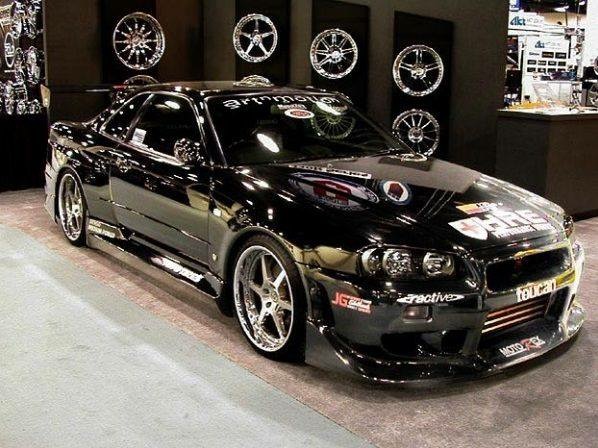 The car, originally black, was not going to suit my purpose, so I decided to change the color. This was a decision I didn't take lately as I knew that people thought the car looked amazing in black.
I didn't care what people thought because I knew that black cars don't get magazine coverage (this was back before social media existed).
Known as "the Blackbird," the car had already obtained some notoriety but as I said, black cars don't get magazine exposure. Since I knew I was going to use the car for marketing purposes, I went with a custom, candy blue done by Quigley's in Lake Forest, California.
The blue was a big hit and a couple of magazines hit me up about shooting the car. At the time, I was still consulting on post-production for the release of The Fast and The Furious. Just as my consultation work for that film was wrapping up, Universal announced a sequel.  My newly-modified GT-R was cast for the leading role with one catch – Universal wanted to change the color.
The car, originally black, now blue, would be painted House of Kolor Platinum Pearl (silver).
This car would serve as Brian's main car in 2 Fast 2 Furious and since production was in South Florida, I went along for the ride and moved to Florida to serve as the film's Technical Advisor.
I was not happy about the car's color being changed from the (what I thought was stunning) scheme I had selected, but Universal had my blessing to make the changes they wanted.
By this time, the car had received a crazy nitrous setup, with three carbon bottles, a custom made feed system, an intercooler spray bar and a dual purge nozzle setup.
The car had also received a full audio/video setup, with three TV screens, custom fabbed door panels and a full build in the trunk. West Coast Customs did the fab work.
The engine had received some upgrades, too. New turbos, a few supporting mods like camshafts, injectors and some carbon fiber bits made this car a stunner at car shows.
Back in 2001, hardly anyone had an R34 on U.S. soil, and having one show up as a regular at car shows was simply unheard of.
I always intended to restore the car back to blue after the movie, as well as making some other changes.
As it turns out, I would never get the opportunity.
Upon completion of this movie, I immediately restored the car back to the blue color I had used before the movie. I changed a few things and just when I got it the way I wanted it, I received a generous offer for the car. After a little soul searching, I decided to sell the car.
Where is it today? It is privately owned by an individual on the East Coast of the USA. The car has changed hands a couple of times and was painted back to black somewhere in that process.
People ask me today if I have any regrets about selling these cars. The answer is a resounding "no." Back when the first two movies came out, NO ONE in the car community thought much of the movies. To most, they were stereotypical portrayals about everything that was bad in the automotive modifying world. When I drove around the cars, people looked at me like I was ridiculous for driving "replica" cars (little did they know that these were the originals).
My choice to sell the cars was built on several reasons:
1) I didn't like the way they looked. The designs were not age-appropriate for me;
2) No one had any idea that the movies would become a hit, therefore making the cars more valuable;
3) No one had any idea that Paul would meet an untimely death which has also influenced the values of these cars immeasurably;
4) I did not want to tie up liquid cash in what was (at the time) depreciating assets;
5) I did not want the responsibility of stashing and preserving movie cars;
6) I also did not want to be burdened with taking these cars around from show to show just to appease audiences. Many people on social media have suggested that owners of these precious assets somehow have an "obligation" to share them with the public.
Ultimately, while it was fun owning these cars, I don't allow myself to get too attached to inanimate objects – I prefer to spend the money on life experiences, such as traveling. I was thankful (and lucky) to have had the pleasure of owning these vehicles but I can only hope that the new owners will enjoy them as much as I did.
Follow Me: