What Killed the Tuner Market?
For starters, it's important to note that the tuner market isn't dead at all – it has evolved. It's important to give a little background for younger readers who weren't there to live through it so that they can make sense of its roots and its evolution.
The 1990s
In the 1990s, people really started modifying cars like the Honda Civic, Acura Integra and other imported 4 and 6 cylinder Japanee cars. Many of these people were simply customizing cars that were handed down by their parents or were affordable enough for a young person of modest means to reasonably finance. Like any true hot-rodder, these people wanted to personalize their cars. This tradition goes back to at least the 1950s.
By the late 1990s, several magazines had emerged that would showcase their efforts. Magazines like Super Street, Sport Compact Car, Import Tuner and Turbo, Later on, other titles jumped into the foray including HCI, Modified and MaxPower USA. In Europe, they were already producing great magazines like OptGezet, Redline, MaxPower UK and many, many others. The trend was now global.
Car shows like Hot Import Nights, Import Showoff, Extreme AutoFest and the NOPI show were among the biggest in the USA. NOPI, run by Mark and Mike Meyers, acutally got their start by focusing on VW Bugs of the 60s and 70s and mini trucks. They had been around a long time and their annual SuperShow was perhaps the biggest tuner event of the year.
The tuner market was gaining momentum and by the year 2000, it was nearing all time highs in popularity.
Cars like the 350Z, the WRX, and the Evo were not yet released in the USA and so there were somewhat limited choices. Among the tuner cars available to tuners were the:
Acura Integra/NSX

BMW 3/5/7

Chevy Cavalier

Dodge Neon

Ford Focus (starting in 1999)/Probe/Escort/Escort ZX2

Honda Civic/Accord/Del Sol/Prelude

Lexus GS

Mazda RX7/Miata/MX6

Mitsubishi Eclipse/3000

Nissan 240SX/Sentra/Maxima

Toyota Supra/Celica/Camry/MR2

VW Golf/Jetta/Passat
These cars made up the biggest population at car shows and tuner events. The cars you'd actually see on city streets would depend upon where you lived.
In Southern California, the standard of living was higher than in many other parts of the country so the shows were populated with more Supras, NSXs and RX7s than you'd see at a show in Tennessee. In the Eastern and southern parts of the USA, they were slow to jump on the bandwagon of buying Japanese cars, so you'd see more domestic sub-compacts like the Neon and Cavalier.
Regardless, the tuner trend was growing and by 1999, we saw it explode in several ways:
1. The page count of tuner magazines grew from 60 or 80 pages to over 200 pages per issue;
2. The annual SEMA show dedicated more resources to shwcasingtuner cars and every major car company was adding them to their booths. The SEMA show was growing so much because of this growth, they added giant new show hall just for wheels and tires;
3. There were no less than six tuner-exclusive event series (not one event, but a whole damn series) in the country – Battle of the Imports, Import Showoff, Hot Import Nights, National Import Racing Association (aka "NIRA"), NOPI, and Extreme Autofest.
4. More and more Japanese companies setup distribution facilities in the USA including HKS, Trust (GReddy), Apex Integration, Bomex, and many others.
5. More and more auto parts distributors who, up until this point, had only sold parts for auto repair jobs, started selling accessories for tuners (PepBoys, Autozone, etc).
The tuner market seemed poised to rule the world. So what happened? What killed the tuner market?
The 2000s
In the early 2000s, just as the tuner market was nearing its peak, there were several events that made an impact on the tuner market.
1. In June of 2001, Universal introduced a little movie called "The Fast and The Furious." At the time, I was serving as Executive Director for the NIRA series, an entity wholly owned by Super Street magazine's parent company, Petersen Publishing. I worked in the same building as the Super Street editorial team. Many of their editors and photographers were close, personal friends. I sat in many meetings with them as we struggled to make sense of the emerging internet magazines and blogs were pumping out event coverage faster than we could develop the photos we shot.
2. Entities like Overboost.com, AutoBuzz.com, CarParts.com, SpeedOptions.com and many others were posting event photos of our events the same day as the event. The Super Street event coverage wouldn't come out until three months later – the handwriting was on the wall – the internet would eventually kill off automotive magazines. While they didn't outright kill all of them, it tuner magazines today are a shadow of their former selves. Page counts are a fraction of what they were and advertisers have fled to social media for better ROI (return on investment). Those that have survived are at the top of their game quality-wise and have survived several mergers or sale to large corporations. Petersen Publishing, for example, was sold three times in five years. Sooner or later, they will all die off, replaced by the instant gratification of social media for a generation of humans who seem to have a five-second attention span.
3. In September of 2001, the USA suffered its worst attack in 60 years. When the towers fell, there was an immediate impact on the economy. I was literally on the Super Street Tour from Miami to the Atlanta NOPI Show the morning that it happened. All flights were grounded for five days.
4. About the same time, the USA moved toward a small recession, fueled partly by the Dot com bubble burst. We emerged from the recession as of March 2003, but I can tell you from personal experience that these two factors played a role in the tuner market. One example was how CarParts.com reneged on their contract to NIRA for $250,000. Additionally, we started to see a dip in advertisers. The annual SEMA show didn't show many signs of this recession in 2001, but by 2003, there were clear signs.
These economic influences had some role, but there were many other factors at play:
The tuner websites  – With the emergence of so many tuner websites, they competed with traditional print magazines for advertisers, readers and feature cars.  Advertisers could arguably get in front of more eyes for far less money. Readers could go to websites for free rather than buying a magazine for $10 on the newsstand. Owners of feature-worthy cars often chose to be featured on a website now rather than praying for a feature in a magazine later – if ever. The most dramatic impact was the lost of advertiser revenue which meant fewer pages in the magazine which in turn, reduced the magazine's appeal to readers.
Social media – Once social media became popular, owners of tuner cars could post their pictures immediately, providing instant gratification and exposure. By 2015, one picture of a person's car could be re-shared on hundreds of social media account pages providing exposure to millions, while magazine viewership wouldn't even come close.
The rise of drifting – When drifting came on the scene, it was so hot that advertisers were choosing to spend their money there. This hurt other event promoters and magazines in a big way. In effect, there are only so many advertisers with just so much money floating around. Carving those dollars up among multiple entities meant a smaller piece of the pie for everyone. By the mid 2000s, even NOPI was suffering and at one point, they cancelled their annual show.
Aging population – In the 1990s, those tuners who were in their late teens or early to mid twenties were starting to get married and have families. A fully modified Honda Civic DelSol doesn't work as a family car and so as these cars were traded for more practical modes of transportation, sales of parts for tuner cars suffered. If you're a manufacturer making parts for these cars and with no new blood coming into the market, it's tough to survive. With fewer parts choices, those tuners who remained active had fewer options. Many lost interest in the hobby altogether. People who were born in the early 1990s have had less incentive (and exposure) to the tuner hobby because by the time they were of driving age, it was 2008 or so. By that time, the tuner market had shrunk significantly.
Laws and regulations –  As smog laws became increasingly strict, many people stopped doing engine swaps, big turbos or full motor builds. As cars got more complex, car manufacturers started adding steering wheel buttons and navigation and HVAC controls into the car's audio system. The result was that it was now virtually impossible to change your steering wheel or stereo system. Even things like adding race harnesses became increasingly complicated. The result? Fewer parts were sold and many accessory companies either died off or switched their focus.
Greedy event promoters –  Some event promoters were, shall we say, exploitive. Hot Import Nights had my least favorite management team. While there were a couple of rockstars on that team, the others were simply rude and unprofessional.  Dealing with them as an OFFICIAL SPONSOR of their events, you'd think we'd be treated with respect. That was not the case, They were eventually sold off multiple times, the most recent sale (in 2010) to Stratus Media Group, during which they had already partnered with NOPI. Somehow, they continue to survive, but as a shadow of their former selves.
Another recession – In 2007, the USA went into a serious recession. During the next few years, the SEMA show provided clear evidence of the contraction in the automotive hobby as a whole. Disposbale income had all but vanished for many millions of people and many industries were hit.
Choosing cheap parts over engineered parts – As we progressed into 2010 and beyond, a whole new generation started getting into the hobby. This was a different breed of people and it was more global. Unfortunately, too many of these new tuners susbcribe to the "fake it till you make it" philosophy, while others don't understand the value of paying for a properly engineered product vs. buying a knockoff on Ebay. I personally sat in product development meetings as early as 1996 where companies were questioning the value of engineering parts for an audience that seemed hellbent on just getting something cosmetically "similar". Companies like Eibach were hard-pressed to justify making properly engineered lowering kits for Hondas when so many people were willing to buy crappy lowering springs for 1/3rd of the cost. Same thing for turbo kits, bodykits and many other parts. When bargain shoppers are willing to except poor quality parts, high quality manufacturers are compelled to stop making parts for that application.
My favorite story about this comes from my visit to VeilSide Japan in the early 2000s. I had dinner with the owner, Mr. Yokomaku. At this dinner, I asked why his company wasn't jumping to expanding his bodykit offereings for more cars. His reply made sense – people won't pay enough to cover the engineering costs. He was right and I've heard the same thing from many principals at many companies.  I've personally witnessed the difference in replica parts vs. the high quality parts. Replica bodykits are no bargain, but there's a huge portion of the tuner audience that will never understand this. Today, it's even worse. The replica wheel game has poisoned a once-thriving industry of top engineering companies who made quality wheels. I understand that many people want a wheel that looks a certain way, but if you're buying from a notorious replica maker in a country where people are making $2 a day, you have to assume some responsibility for the state of affairs.
Diversification of interests – As the tuner fans grew older, their tastes became more sophisticated and their interests changed. People who were into tuner cars in 2000 might've chosen a Porsche, a BMW or an AMG in 2015. People who were in a Toyota Supra in 2001 might've moved on to a BMW or any number of vehicles as their tastes matured. People who were active in the tuner hobby might have evolved into different segments of the automotive hobby, whether it was stance, drift, Euros, lowriders or classic car restoration.
Whatever drove people away, the results are clear: fewer tuner-specific companies. More knockoff brands. Fewer quality tuner-specific events, Fewer tuner-specific magazines. And stricter laws and regulations.
One of the things hurting the tuner market (and poisoning the automotive hobby in general) is the street takeovers we're seeing. The end result will only be even stricter laws on modifying cars, manufacturers refusing to support a hobby with so much negative press and the general public looking at all of us as hoodlums.
The Golden Age of Tuners
I will say this – you younger fans, and especially those that never had the chance to attend a tuner event in Southern California, really missed out on the Golden Age of tuning. A typical Hot Import Nights event drew 500 cars and 25,000 people in one night.
Car clubs like ArtnMotion, Team Hybrid, Autobots and many others were dominant forces at the shows. The cars from these clubs typically one dozens of trophies at each event. We were all family, despite club rivals. We came with our friends, girlfriends, wives and even our kids. We lined up for entry early in the morning and stayed all night until the event ended at midnight.  We all helped one another. There was no fighting, no animosity and nothing other than our passion and adrenaline to get us through very long days.
Our greatest joy came from talking to and encouraging other people to participate in the hobby. When younger kids showed up, most of us would hapily let them climb inside the cars and make vroom-vroom sounds. Their smiles were worth far more than any trophy. It was a great time to be alive – and a great time to be in this hobby.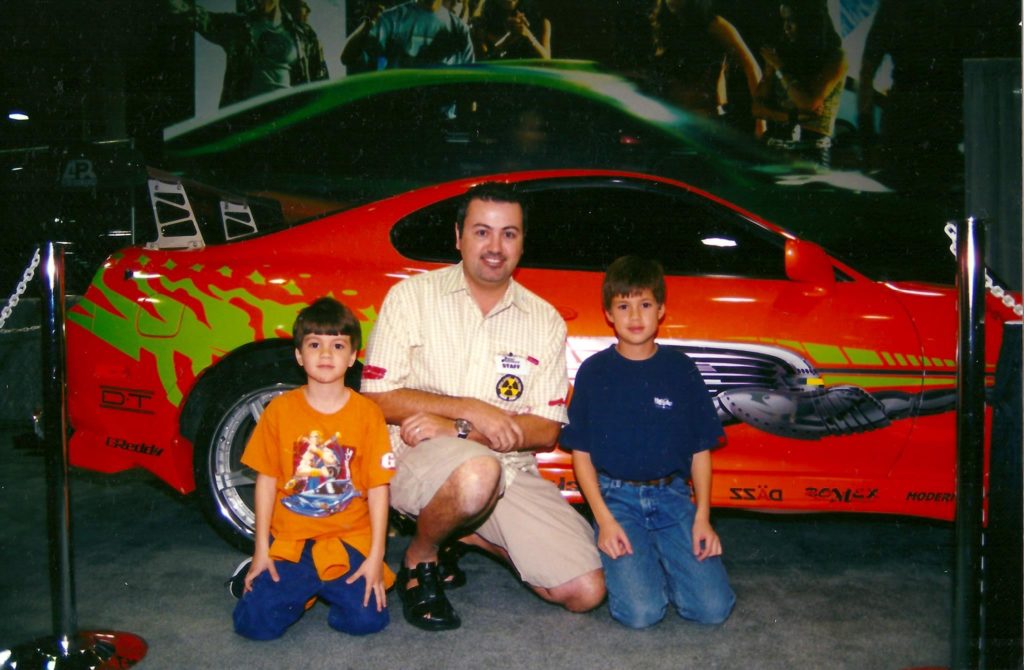 People like me who have grown older watch what's going on today on social media and can't help but to fondly remember the time when people behaved with respect and enjoyed a hobby with our friends. This hobby needs more champions like those that led the way back in the early 2000s.
One thing I want to add – there's no right way or wrong way to modify your car. It's your car, so do what you want. Seasoned tuner veterans will always appreciate quality parts and fabrication, so don't be surprised if you take a little heat for that $50 muffler on Ebay. Again, it's your car, so do as you please. Speaking only for myself, I'd rather see a car with a nice set of wheels, a proper lowering with coilovers and an axle back exhaust than a fully decorated car using cheap knockoff parts. But then again, I'm old.