The Cars of Craig Lieberman
Forgive the braggadocio title – I used it only to make search engines happy and to help people searching for this information to find it more easily.
Like many car nuts, my predilection for cars back to my early youth. I was fascinated by the 1960s Batmobile and later on, the Mach 5 from the Speed Racer cartoon series of the late 1960s. Also like many car nuts, I couldn't afford the cars I wanted when I reach driving age. My family was not well off and I had to pay for nearly everything myself. By the time I was 19, I had moved out and was going to school and working two jobs. I spent money on only a handful of things: school. food, my girlfriend and my car.
Still, I managed to have some fun with cars, and over the years, the cars I owned got better. As of this writing, I've had 43 cars. I'm not including in this list the several company cars I have been issued over the years. Here they are in order:
1981 Isuzu I-Mark sedan

1973 Mercury Capri V6

1970 260Z widebody

1973 240Z

1974 260Z

1967 Chevelle 396

1981 Honda Accord hatchback

1978 Fiat Spyder

1976 Audi Fox

1976 Mercury Capri V6

1972 Datsun 510 2 door

1971 Datsun 510 4 door

1970 Chevy Camaro

1976 Firebird 400

1967 Firebird

1972 Datsun pickup (with Chevy V8)

1975 Datsun 280Z V8 swap

1998 Nissan Nissan Pulsar NX

1990 Nissan Maxima

1993 Mustang GT

1996 Impala SS

1997 Nissan Maxima

1998 Nissan Maxima SE

1994 Toyota Supra

1999 Nissan R34 GT-R V-Spec

1998 Lexus G400

2001 Lexus IS300

1998 Lamborghini Diablo Monterey

2002 BMW M3

2001 Lamborghini Diablo 6.0

2004 Mercedes CLK55

1998 Toyota Supra

2005 Mercedes CL500

2003 Lexus GS430

2006 Mercedes SL600

2007 Audi RS4

2008 BMW 750Li

2009 BMW 335

1998 Nissan 240SX

2014 Lexus GS350

2014 Lexus CT200h

2015 Nissan GT-R

2017 Audi S3
As you can tell from the list, I was into Japanese cars from an early age. Admittedly, some of these cars from my younger days were a bit rough. For a few years, I couldn't make up my mind and I was seemingly always in search of the perfect Datsun Z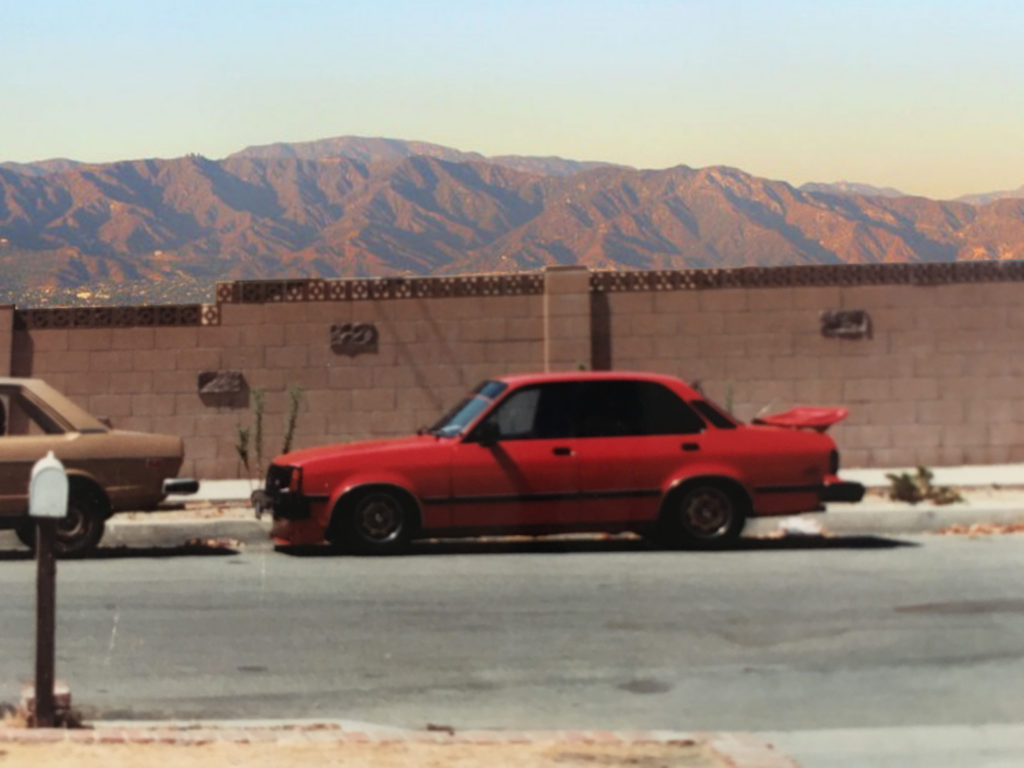 car. I started off with hand-me-down car – a 1981 Isuzu I-Mark sedan. Never heard of it? Me neither. My dad gave me this thing and like an idiot, I spent a ton of money on a Porsche red paint job, an expensive rear wing, and what few engine mods could be done to the car. The car made maybe 90hp to the wheels, but somehow, I was convinced it was fast as hell. It wasn't and I learned that after spending $4000 on this piece of crap (in today's dollars, that's about $13,000), I could've had a much better car.
This is why I tell people today to STOP SPENDING GOOD MONEY ON SHIT CARS.
Learn from my stupidity.
Not long after this failed mistake, I found a fun project car – the Mercury Capri. Made in Europe, these cars were making a name for themselves in racing. They made wide-body kits for these cars, all sorts of suspension goodies, brake kits, and V8 motor swaps were a possibility.
At the time, I was working at Super Shops, a chain of high-performance speed shops on the West Coast. I had access to good parts, dirt cheap, so it was the perfect gig.
In what was clearly becoming a pattern, I jumped in with both feet. I ditched the crappy brown paint for a home-done white paint job. It was then that I learned that I sucked at painting. from ten feet away, it was great, anything closer and it was a train wreck.
Still, it had badass Carroll Shelby, gold-mesh wheels, a robust exhaust system, a 2.6 V6 engine with a Holley 500 carb and a 4-speed transmission. It was fast(ish) for its day and it was a lot of fun.
This was the first car in which I installed a good sound system. How good was it? It blew out the rear side windows one day to Depeche Mode's "Lie to Me." God, I miss that car.
I had several Datsun Z cars, and each of them was more modified than the last one. One of my Z had dual Weber carbs, another one had triple Weber carbs and another one had a Chevy V8. The red one was probably my favorite looks-wise but my brown, V8 monster was the most fun to drive but the rear axles were a constant problem. I sold that car within a year because cops in my small town were constantly hassling me.

In no particular order, here are some pictures of some of my favorite cars I've owned:
As you can see, I've had some pretty decent cars – and some pretty awful ones. Perhaps the best piece of advice I can give to anyone is to remember that spending money on bad cars is keeping you from owning a good car. Just. Don't. Do. It.
CAR MODIFYING ADVICE
People often ask me how they should modify their car. Let me get the bullshit, political answer out of the way – it's your car, do whatever you want. Just make sure you have a thick skin because there will always, ALWAYS be haters. If you can't stand the haters, don't you dare get into the car hobby – you'll be suicidal over the hate.
That said, here's the real answer: craftsmanship is king. Poor workmanship and cheap parts will command the respect of NO ONE and will draw nothing but criticism. If you're buying cheap parts, everyone knows it. If your installation of good parts was done by the lowest bidder, everyone knows that, too.
I've seen interior work that looks like it was done during a 3rd-grade class' arts and crafts session.

If you're on a limited budget, here's what you should do:
Good, high quality, wheels from a reputable, well-respected wheel manufacturer.

Lowering kit/sleeve kit- Eibach or H&R. KW Suspension, Bilstein, Tein, GReddy, HKS, Ohlins etc.  Don't buy Chinese shit. Ever. No matter how broke you are

Proper exhaust system from a reputable company. Stay off of eBay, for the love of God, unless you're buying name brand parts (ex. HKS, GReddy, and so on).


Don't put carbon fiber stickers on anything. Ever.

Intake – On a 4 cylinder car, a cold air intake is going to do next to nothing. If you think being louder makes you faster, dyno your car before and after. Let me know what you find out.
Whenever possible, start with a turbocharged car. These cars have potential. Naturally aspirated cars are much, much, MUCH harder to make fast without digging into the motor. If you don't have a turbo car – STOP. Save your money for a turbo car.
I know some people will piss and moan about my suggestions, especially those who have naturally aspirated cars and have poured a bunch of money into it. I've been modding cars since 1980. I've owned a fair number of cars and worked on many more. The opinions I'm presenting here are based on those experiences.
Last but not least, remember that this hobby is supposed to be fun.