Dom's Charger from The Fast and The Furious
Dom's Charger specs remain a bit of a mystery to most people. For starters, just as we did with the other cars in this movie, we had multiple copies of the cars.
A quick refresher – in this movie, we would have a "Hero" car.  The term "Hero" doesn't mean it's driven by the hero of the film, it means that this was the nicest, prettiest, shiniest car of the several we would use.  As far as this movie is concerned, the "Hero 1" title usually meant it had a modified engine with some nice eye candy under the hood, and the interior might have had numerous mods or accessories not found on the stunt cars.
The Hero cars are used in "principal photography – in clear English, they're used for 1st Unit filming. For those who don't know, 1st Unit refers to the part of the film crew that focuses on the sequences where actors will appear. 2nd Unit refers to the film crew that focuses on filming the stunts.
It's important to note that for this movie, we typically used TWO Hero cars for each car we cast. In short, for every car we picked, we'd have two pretty Hero cars and two Stunt cars. They would be designated
Hero 1
Hero 2
Stunt 1
Stunt 2
"Hero1" and "Hero 2." The Hero 2 car is used as a backup in case it needed to work on-set at a different location simultaneously with the Hero 1, or if the Hero 1 car got damaged. In the case of the Charger, because of the Echo Park and jumping sequences, we also needed to add a dedicated car for the final jump, flip and crash. That car was designated the "Jump Car."
Officially, we used three Dodge Chargers for this film but two of them served dual purposes. 
A MicRig Charger?
On May 28, 2019, I personally called David Marder, the Production Supervisor of the film, and asked him if there was also a MicRig car. His answer was, "probably, but I don't remember seeing it." This is likely because the MicRig cars were built in the San Fernando Valley, about 15 miles from our picture Car Warehouse in El Segundo. I don't remember seeing a MicRic Charger either, but there's a high probability one existed given that there were close-up shots of Vin Diesel driving. To capture those shots, we almost always used a MicRig.
Moving On
While this information is the latest verifiable information I have, please understand a couple of things as you read on
1. I cannot verify what happened to the Hero 2 car, nor can I verify what happened to the Stunt 1 car, so I'm not presenting that information here. When I get verifiable information, I'll add to this post. I believe both cars still exist and one is probably in. car museum and the other may be in a private collection outside the USA.
2. There are so many copies and fakes of these cars that if you're considering buying one, be sure you've thoroughly checked the VIN number and track its history thoroughly.
3. What we DO know is that Volo Museum had this car for a while (having bought it around 2002) and then sold it to a collector in Reno, Nevada. Volo bought the car back in 2008, and then sold it to a Norwegian. When it came back up for sale, Volo bought the car back again. 
As of lat 2021, Volo still owns this car. 
One last thing – Make sure you understand all of what I just wrote above before you move on.
THE HERO 1 CAR
The Hero 1 car was originally built by Cinema Vehicle Services in the Los Angeles area – in fact, CVS built all of the Chargers for the first movie.
The Hero 1 car was built using a 1969 Charger and made it look like a 1970 Charge R/T as the donor car. The car was built to be reminiscent of  typical 1970s street monsters, right down to the Cragar 200-S wheels (aka the "Daisy" mags) and fake supercharger.
Here' s where things get confusing:
The Hero 1 car really had two engines.  Follow along as I try to explain this.
When we first see the car in Dom's home garage, we see a giant, supercharged Hemi. This engine came from Chuck Taylor Racing engines. While Chuck Taylor's website proclaimed was a 426, bored and stroked to 572 cubic inches, if you look at the photo, you can see that the distributor location shows that this engine started off as the older 392 Hemi because, in the second picture, the spark plug wires go to the back of the engine block…like they would on the 392 Hemi.
The spacer under the blower in the second picture is consistent with this.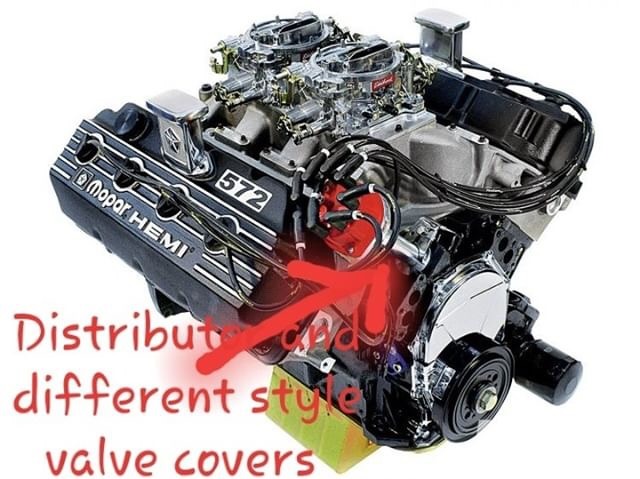 Unfortunately, this engine was never actually used. We literally put the engine in the car for these shots, then packed it up and shipped it right back to Chuck Taylor.
Chuck passed away in January of 2019, so there's not much more information available about this engine. It's reported to have made 900hp+ PLUS a 250 shot of nitrous. I have no reason to think Chuck would make this stuff up – he had a great reputation.
In short, the engine you see in the movie is NOT what actually powered the Hero 1 car.
So what engine did we actually use in the Hero 1 car for the driving shots? We used a standard Mopar big block – a 440.
I remember seeing at least two of the engine compartments on these cars and the engine blocks were blue. That seems to confirm that they were Mopar big blocks as PER THIS SOURCE
Eddie Paul's book also corroborates the Mopar big block as the engine of choice for these cars, as well.
So what happened to these cars?  One of them eems to have sold to a buyer in Switzerland as of 2015, but the car previously sold back in 2013 at Barrett Jackson for about $95,000 – this of course, was before Paul Walker died and values were rising after 2015 until just recently, where they seem to have settled a bit.
From the 2015 Mecum ad:
"That famous Black Charger has been completely restored by its original builder, Cinema Vehicle Services, and is presented in full high-performance specification with an impressive list of equipment. Under its gleaming, black bodywork, is a pro-built 528 cubic inch Chrysler Hemi with aluminum Indy competition cylinder heads, a TBS supercharger fed by F.A.S.T. electronic fuel injection and an N.O.S. 250 HP plate nitrous injection system. Rated at 950 base HP, the huge Hemi develops over 1,100 on the bottle. A race-prepared TCI 727 Torqueflite automatic transmission and Strange 3.73 "Locker" rear end put all that power to the ground, with Wilwood four-wheel disc brakes ready to bring it to a sure stop.
Correctly restored and with only post-build test miles and offered with a Certificate of Authenticity, the "Fast and Furious" Dodge Charger is in fabulous condition, ready for street or show, a prime collectible cinema "Star Car."
Highlights:
– With Fast and Furious 5 in pre-production the highly popular series will continue to thrive for many years to come
– However, there will only be one "original"
– This '70 Charger is that car
– This was the vehicle driven by Vin Diesel in the first "Fast and Furious" movie
– It has been completely restored and has only test miles since completion
– A 'Certificate of Authenticity" comes with the car from the original builder "Cinema Vehicle Services"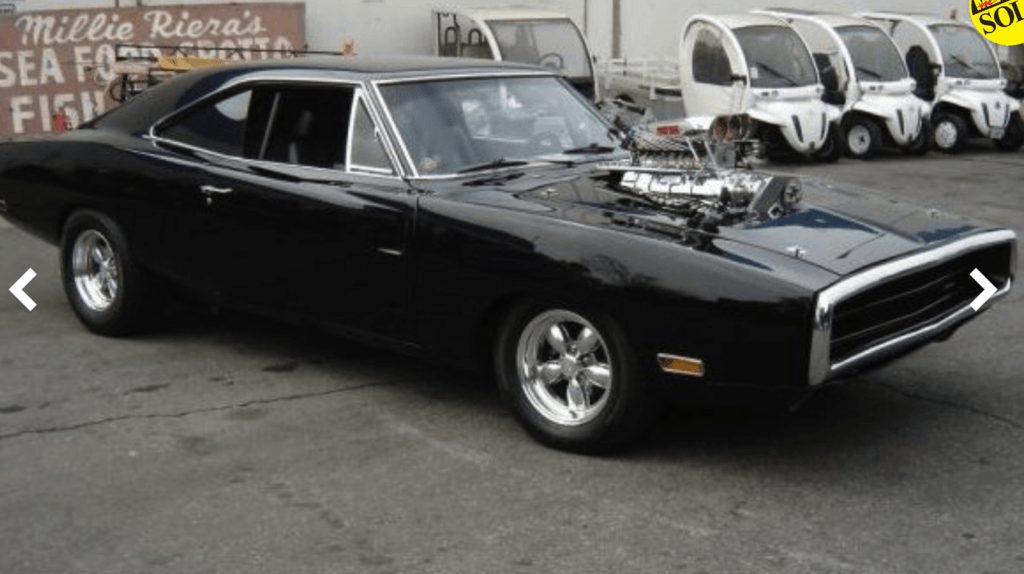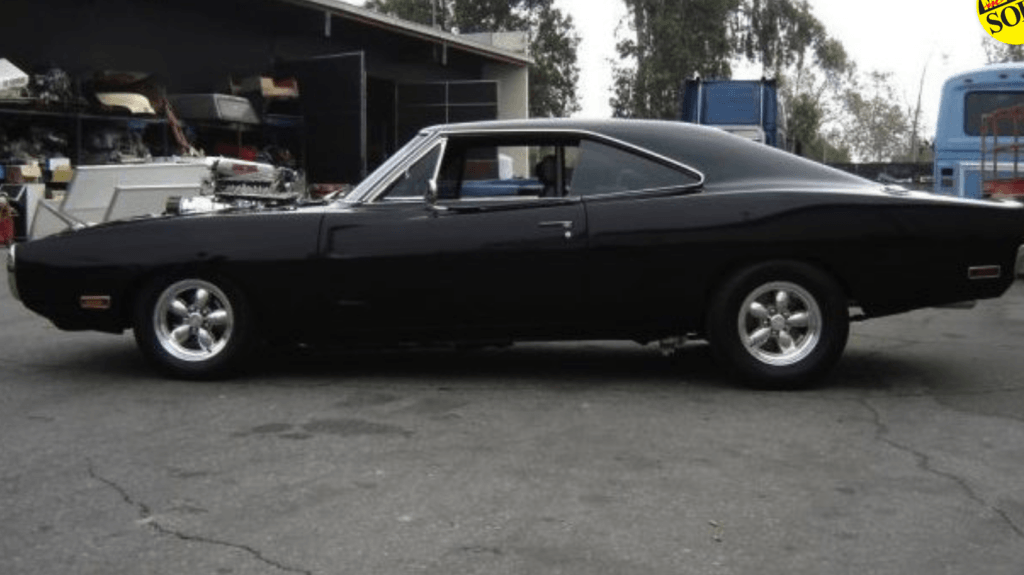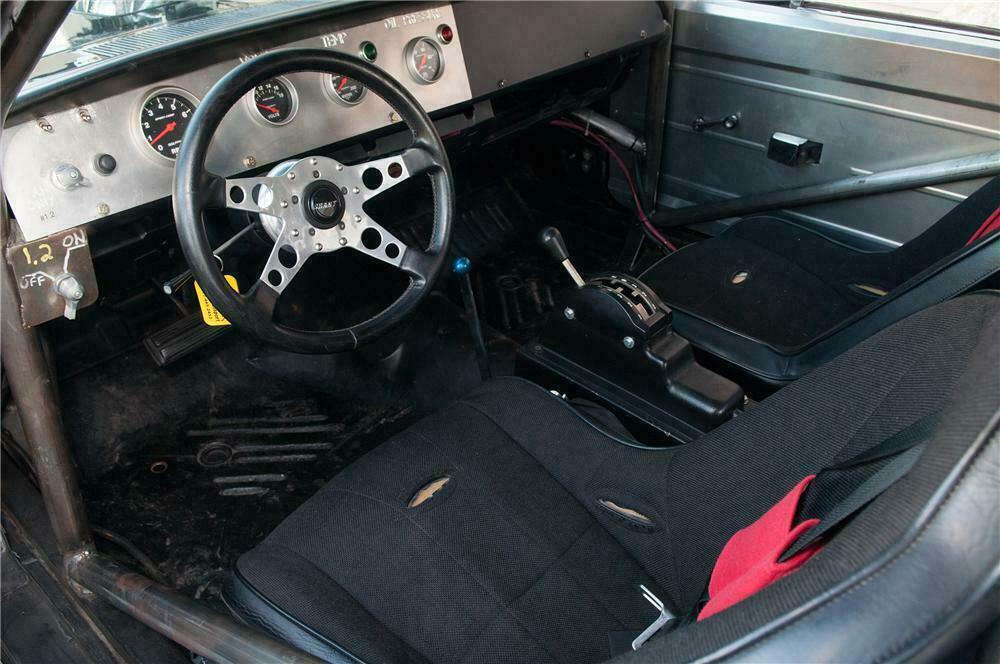 STUNT 2
This is obviously the car that did the pipe-ramp jump off the front end of the semi-truck.
This car appears to have sold at the Mecum Auto Auction in 2015. I have no idea of the price….pricing information is always super secret stuff, so don't expect a straight answer from anyone.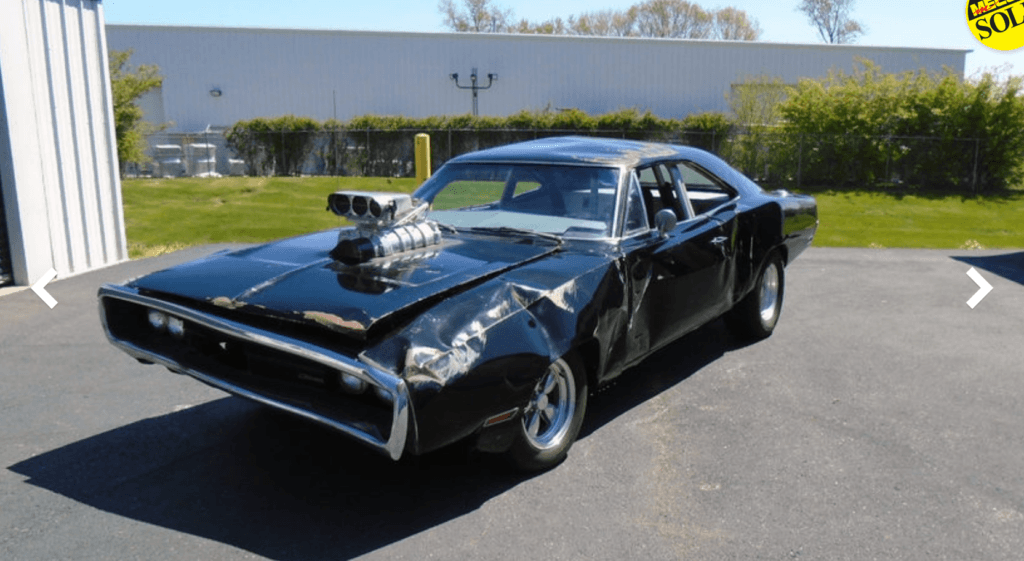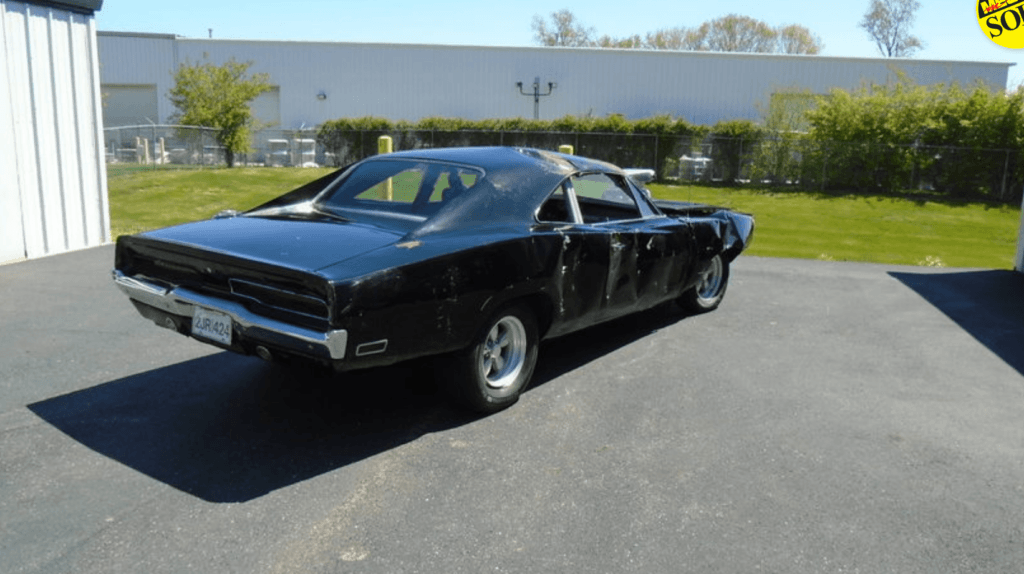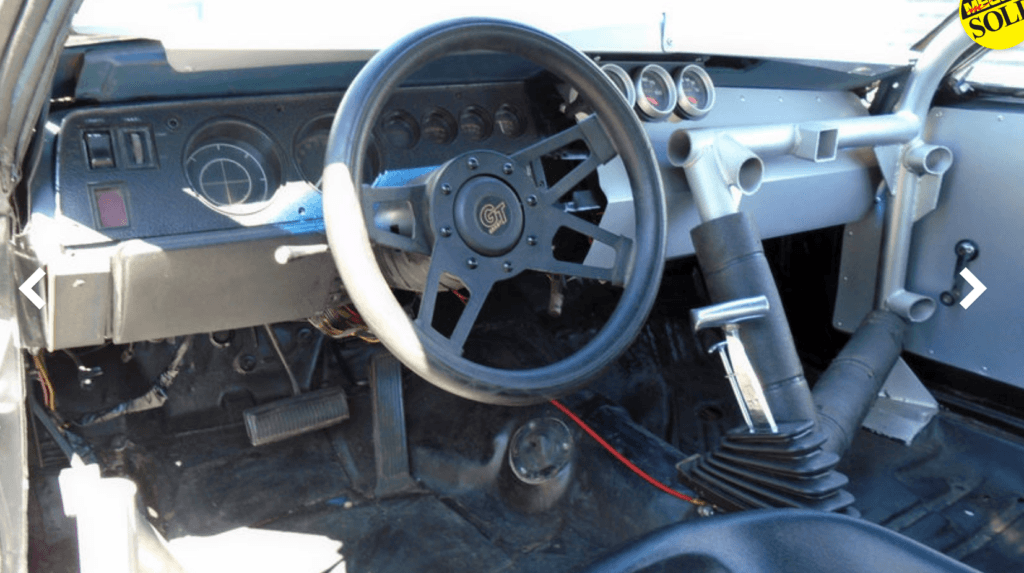 Specs as presented:
No. 42 on Redline car key list of cars used in the movie

Fabrication work done at Cinema Vehicle Services of North Hollywood, California

Certificate of Authenticity from Cinema Vehicle Services

Grant steering wheel

Winston Winner tires

American Racing CP200 wheels

Edelbrock carburetor and intake

Replica BDS blower

Headers

440 CI engine

Automatic transmission

B&M shifter

Roll cage

Comes with Vin Diesel's screen worn outfit and Certificate of Authenticity from Universal Studios and Premier Props

25 story boards of the final race scene with Certificate of Authenticity from artist Nikita Knatz's widow Patty Knatz

Also used in the movie Herbie Fully Loaded

Part of a private collection since 2005
FUN LITTLE FACT: This car made a cameo in "Herbie Fully Loaded." How/why did this happen? Real easy. Anytime a motion picture is filming, they call around to known sources for cars to use the in movie. Cinema Vehicle Services likely got the call for other cars for this movie, so when they asked for some junkyard-looking cars, they had this car laying around.
At the time, no one knew if there would ever be another "Fast and Furious" movie so I'm sure Ray Claridge (from Cinema Vehicle Services) didn't mind renting this car out for a few days.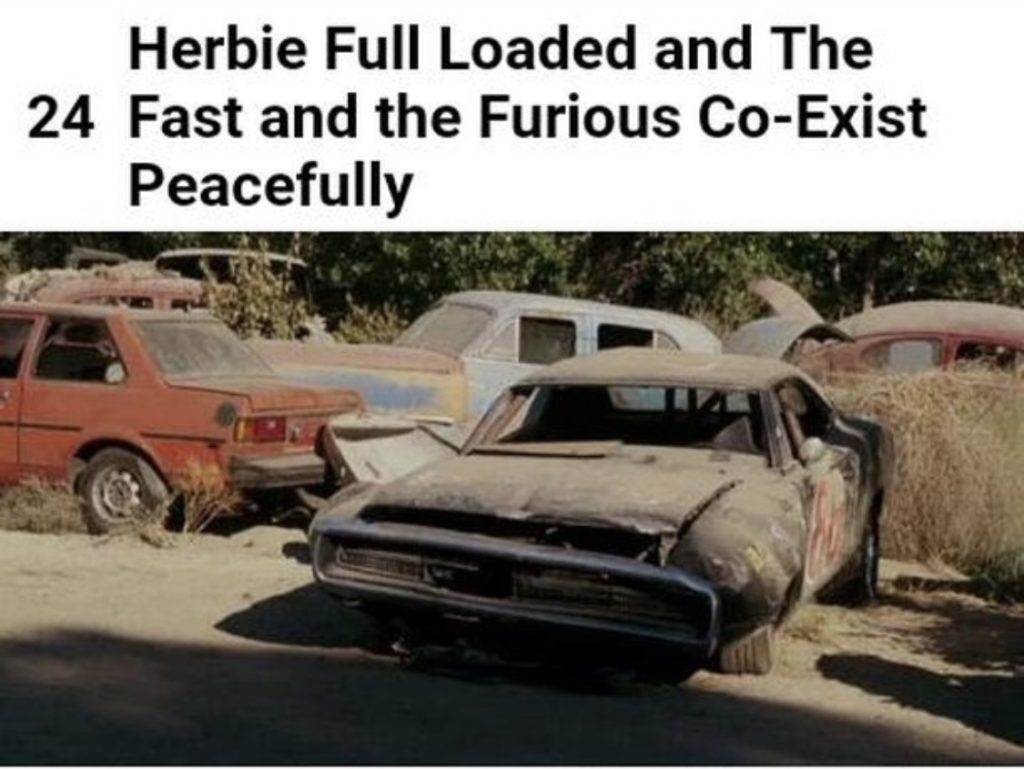 NOTE THAT ALL OF THESE CARS USE AN AUTOMATIC TRANSMISSION, SO ALL THOSE GEAR SHIFTS YOU SEE DURING THE MOVIE ARE FAKE.