Superchips Calls it Quits Due to COVID 19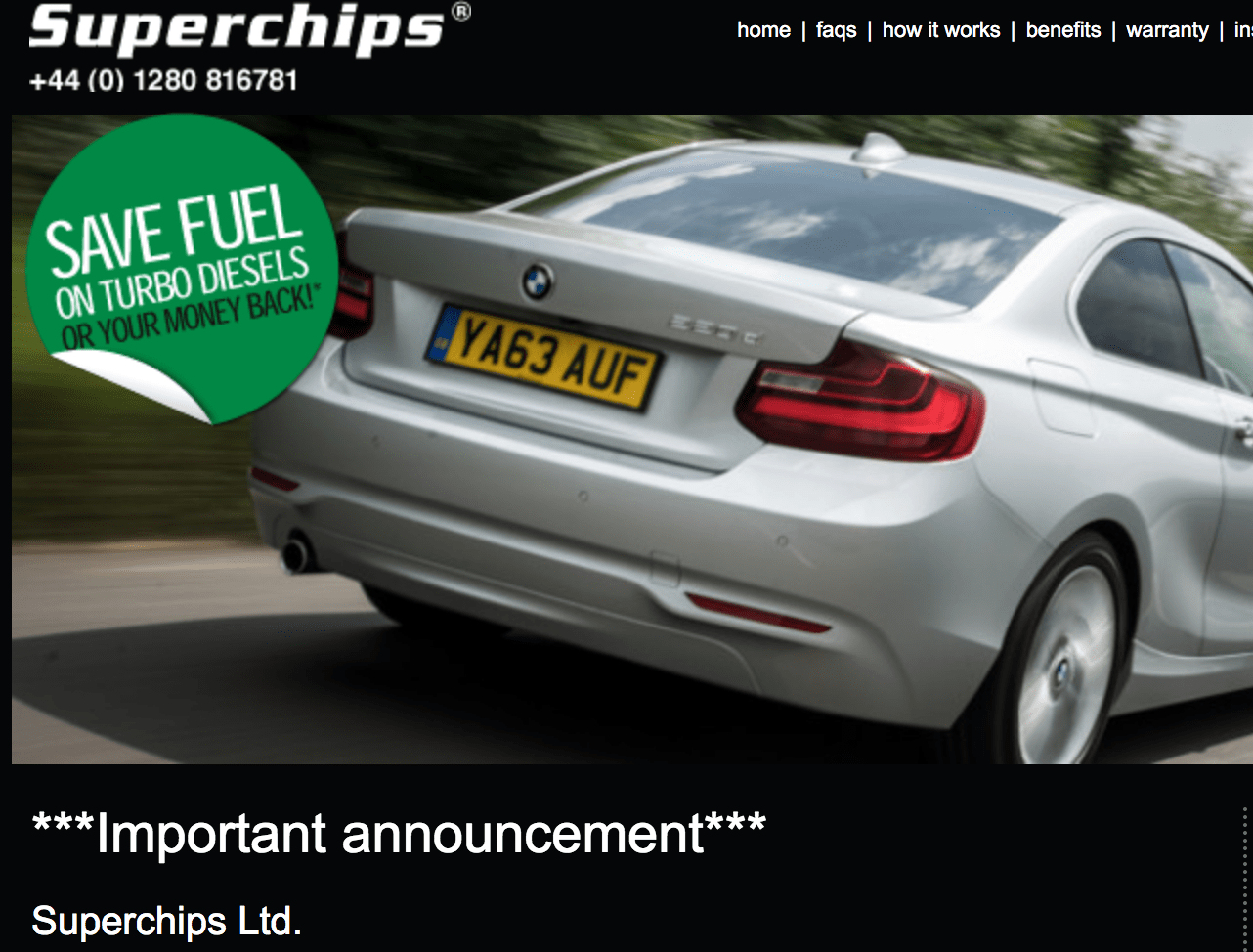 Superchips Calls it Quits Due to COVID 19
The Facebook that greeted me this morning had the ominous headline – Superchips calls it quits due to COVID 19. The irony was not lost on me.
It just so happens that in my Instagram Live session yesterday, a follower asked me what my thoughts were on the move away from internal combustion engines. As the discussion progressed, I touched upon the future of the automotive tuning world once hybrids and fully electric propulsion systems become the only choice.
The conversation then continued when someone asked about what were my predictions for the future of the tuning hobby – the ability to modify one's vehicle through some sort of programming device. More on that in a moment.
Of course, when I woke up this morning to this note posted on the website of Superchips UK, I was surprised:
***Important Announcement***
Superchips Ltd.
Due to the current COVID 19 situation, we have taken the difficult decision to place Superchips Limited into liquidation and have instructed Quantuma to assist with this process.
Thank you for your incredible business and support over the years. We alongside Quantuma will be working together over the next few weeks in order to assess whether we can sell the business and its assets as we are eager for there to be continuity.
If you would be interested in acquiring the business with the following assets…
The premier remapping brand "Superchips" related domain names and marketing material.
An extensive remap library of 3700 tried and tested remap files.
1400 Bluefin applications, delivered by our market-leading handset. No mechanical or technical skills required. Just simply plug-in and go.
Over 80 fully trained specialist Performance Centres worldwide with remapping equipment.
4X4 Maha Dyno and cooling fans.
With more than 500,000 cars having benefited from Superchips enhancements and thousands of satisfied customers we are the brand that people trust.
Office/Workshops available by separate negotiations.
Interested; then please do get in touch on the number below.
Richard Birch
Richard Birch & Co
(t) 01442 878733
(m) 07860 549776
richard@richardbirch.co.uk
This was posted on the Superchips website here: https://www.superchips.co.uk/
The Beginning of the End – or the end of the beginning
It seems that Superchips has called it quits due to COVID 19. They're the second casualty in the tuner programming world in recent months, the other being Diesel Brothers who got smacked down for EPA violations.
It started in Great Britain back in 1977 as Superchips LTD. The name was later changed just to Superchips. In 1992, Superchips Inc. was established in Sanford, Florida, US and developed products for the North American market. The subsidiary was sold to MSD Ignition in 2005 for $40 million. The company was merged with Edge Products in 2011 and the Superchips brand of products is now distributed by Powerteq, LLC.
The Harbinger of Death or a Sign of the Times?
Now that Superchips has called it quits due to COVID 19, it beckons many questions:
Were they really doing well before the outbreak?
How does a company that has been around for more than 40 years shut down and liquidate after 56 days of quarantine?
They're not the first engine tuning company to be hit with hard times.
The now infamous court case of the Diesel Brothers was little more than a reminder that Big Brother is watching.
From Car and Driver:
If you've ever seen a diesel pickup belching black smoke through an exhaust pipe that looks like it should have Ninja Turtles living in it, you may have wondered, "Is that legal?" And the answer is no. The EPA forbids tampering with emissions equipment, and both state and local governments have specifically banned rolling coal. And now, a trio of high-profile truck nuts, the Discovery Channel's Diesel Brothers, are facing an $851,451 fine for building and selling trucks with bypassed or nonexistent emissions equipment.
(You can read the full article here)
The Future is Not Guaranteed
I've used Superchips since the days you plugged in a little module into the back of your ECU. In fact, I was there in the 1980s when the last carbureted Mustang was sold and the automotive performance shops were screaming that these fancy ECUs would end the ability for one to modify their vehicle.
Today, my R35 GTR was tuned using a laptop, an email, and a data cable. I can now program my car through a mobile app on my iPhone.
However, we have to look at the big picture. The EPA in the United States is charged with maintaining restrictions. They will continue to make examples of companies that offer these "For off-road use only" devices. Sooner or later, companies will get spooked and will simply stop selling them. This alone paints a bleak future for tuning companies.
I'm not saying they'll likely be shut down soon, but it is reasonable to expect that one by one, they will fall unless they're smart enough to diversify into products that don't draw the ire of governmental agencies.
Even if they survive tightening emissions standards and governmental enforcement, there are two very real and very large existential threats to their future:
1. The shrinking audience
2. and the move towards hybrids and eventually, alternative powertrains (hydrogen, fully electric or whatever we end up with in 50 years).
Take a walk down your street. How many of your neighbors – drive modified cars? (cars that have serious mods beyond a muffler and wheels).
Also, pay attention during your daily commute or weekend shopping excursions. How many of the cars you see are likely running ECU mod? The numbers represent a tiny portion of the vehicles on the road.
Then, also take note of how many of your neighbors are driving SUVs. For those who are driving cars, are they sports cars? A simple walk around my neighborhood of 72 houses revealed only two cars worth modifying only one of which was. Everything else was a Range Rover or other SUV, a plain Jane Mercedes, BMW, Lexus, Toyota or Honda – and I live in Southern California.
The sincere lack of interest in tuning from the overall masses represents a tremendous threat to the livelihood of tuning companies. Those that survive the longest will have to be very smart in all aspects of the business.
I can tell you this: in my daily role, I'm an eCommerce guy. My company helps companies sell products and services online. The Superchips UK website is rubbish. It took me 12 clicks to just to find an application and nothing for a GTR? What????
The website looks like it was built in 1999. Navigation is horrible, no real call to action on the home page, no teaser photos of products on the homepage, and I could go on and on. At least the Superchips USA is modern so maybe there's hope for that segment of the business. It's important to note that Superchips USA is doing only trucks and Jeeps, though.
Ultimately, adapt or die. My company has been working with our clients during the COVID 19 outbreak. Some have finally gotten desperate enough to actually listen to our advice. My point is that the handwriting is on the wall. Between the two existential threats of which I spoke earlier, either could mean the death knell for the industry.
For anyone looking to get into the tuning industry I can predict that even if they're successful, they will be switching careers at some point.
For now, I raise my glass with deserved praise to those chip tuning companies who are doing it well. Companies, like COBB Tuning, APR, and of course, ECUTEK.