The Fast Life
How to build a Fast and Furious car.
Step 1: Choose Your Favorite
The first step is to buy the car. Which car depends on your budget. Iconic Japanese cars like the GTR, Supra, Rx7, NSX and S2000's are the best choices, but they're expensive. That alone is typically a barrier to entry for some people. These cars are appreciating in value rapidly but they're a good investment if you can get past the initial purchase price.
Alternatively the Integras, 
Civics, Mitsubishi Evos, Eclipses, Skyline GTS/GTTs, or S14-S15 or even 240SXs are options. These are more reasonably priced and don't require out laying your entire budget to just to get into one.The lower initial price is a big reason why there are so many replicas using these platforms, as most people don't have the money to build a true replica.
Even if you have opted for the reasonably price car doesn't mean it's going to be a cheap build.
Step 2: Scour the World for Parts
Two of the most critical components in the build are two of the most expensive: the wheels and the wing. Just finding these parts will take weeks, months or years – you won't find these parts in any store, anywhere in the world because in nearly every case, these parts have long since been discontinued. Some people have spent five years searching on forums, Ebay and social media groups looking for these parts. This process can take hours per day.
Body kits might be a little easier to find, only because so many companies are producing copies of the body kits.While Bomex is out of business, there is at least one company producing decent replicas of these kits. One thing, though: don't expect these replica kits to fit like the original kits. A good rule of thumb is to budget at least three times what you spent on the kit to get your body shop to make it fit right.
Then of course, you have to factor in shipping. Depending on where you live, shipping could cost many times the price of the part. Since I live in Australia, I know that everything I buy is coming from the other side of the world and shipping will be expensive – it's almost like shippers don't even want to deliver here, so they charge a premium.
Step 3: Choose Your Paint Shop Wisely
When it comes time to paint these cars, quite a few of them have candy paint jobs, making the process more difficult. A candy paint job is one in which there is a base coat followed by a semi-transparent top coat. The base coat is partially visible through the top coat and both colors need to be precise to get it right. My Supra, for example, is a PPG paint code but several of the other cars used House of Kolor paints – and these paints are very, very expensive.
You can't just call someone up and get these paint codes…they're hard to find and most replica builders won't share them with you. Why not? Because we've done hundreds of hours of our own research and no one helped us. We're not about to give up that information because it's a bit of an ethics matter – if you really want a replica, you need to put in some work.
Even when you do find the right paint code and buy the paint, remember that a good paint job is going to cost you $8,000-$12,000 USD. I'm sure there's somebody reading this saying, 'hey, I can get my car painted for $2,000 USD. My answer to that is "good luck. I guarantee you'll be painting it again." You get what you pay for…every, single time, no exceptions.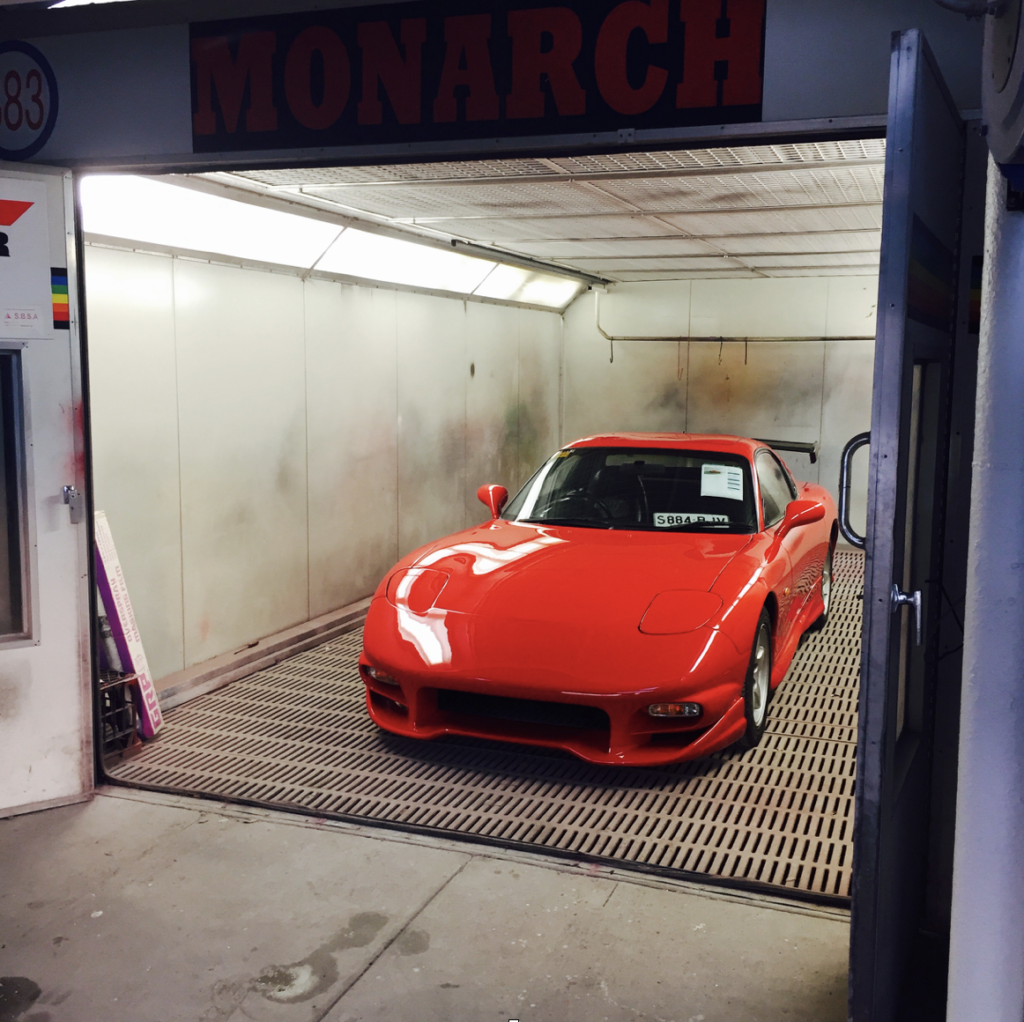 Step 4: You Must Act Quickly
As you find yourself searching for parts, I have one other piece of advice for you: if and when you find a rare part, don't wait – even if it means getting on an airplane, flying to a foreign country and bringing back the part yourself. There are people stalking Facebook groups, Ebay, and other auction sites just waiting to scoop up parts. When you find parts, you need to execute the transaction immediately as you might never find these parts again, ever.
You also need to be very careful and do an assessment of the character selling the parts. You need to research the person selling part and almost stalk their social media to find out if they are real people and not a robot.
Another thing to remember is that when you're buying twenty year old parts, they'll most like need money to restore them. Parts like a wing or wheels will almost certainly need $1,000 in restoration costs. You might have to buy multiple wings to get the parts to make on good wing. The APR wing for my Supra cost me well over $5,000 AUD. This includes flight tickets, buying multiple wings and restoration costs. All of this costs money and if this is a problem for you, I strongly suggest you don't try to start a project you can't finish.
If you have read this far, you understand why some or most replica-builders are hesitant to give out spare parts or specific information regarding measurements of parts needed or sources for these parts.  Some of the critical information would be things like wheel offsets, paint codes, and suppliers.
Why is this? There are people who will go out and buy one part for a car they will never build. This takes this rare part off the market so the general thought is, these people should have to do their own research if they're serious about building a replica. It makes no sense for someone to scoop up a rare set of wheels for a car they will never have the money or time to build.
I try to be as nice as possible when people ask me to help them. In most cases they expect it for free or near nothing and like nearly all other replica builders, I'm just not going to do this.
Step 5: The Graphics
If you've ignored all my advice so far and have successfully built a replica, the last step is the graphics. It's no secret that Modern image make the best decals on the market for our unique fast and furious tastes.
 After all, they did the original graphics. They come at a premium price (starting at about $1,000 USD) as they are the only company actually spending time and money to faithfully reproduce the graphics to their original specifications.
Before you run out looking for someone cheaper, let me warn you: don't. There is no way the original decals can be copied as a lot were custom air brushed. 
Modern Image does it the right way.
If you've gone through all the steps and have finally built a perfect replica, congratulations. You're part of a small, but elite fraternity. You know that you will be getting special attention from everyone that sees your car. You will have people following you home. You'll have to go around the block before you pull into your driveway to shake off stalkers. You'll not be able to leave your car unattended in a parking lot, ever. This attention and adulation goes with the territory – people around the globe are fans and seeing one of these cars up close is a rare treat. This is why we do it.
Dominic Toretto's Rx7 (current build)
Performance
Freshly built 13B twin turbo
Engine Street Ported
Oversized Koyo Alloy Radiator
Blitz FMIC Kit
Mazda Speed Exhaust stainless mid pipe
Apexi Power Fc
Styling
Veilside Japan C2 Full kit Japan
Veilside Japan Carbon wing
Veilside Andrew F Racing wheels
RE-Amemiya Sleek Headlight kit
Interior
Carbon Dashboard surrounds
Veilside Steering Wheel
Bellworks Boss kit
James King is a replica-car builder in Adelaide, Australia. He currently has a replica of Brian's Supra and Dom's RX7.
You can Follow James King and his builds on Instagram